This a juried sheep sale and all photos have been reviewed by the PSBANS Board, and animals meeting the rules have been selected.
It is recommended you register early with DLMS (the online auction platform). If you are familiar with the CSBA Classic Sale, the format will be the same.
Lots are now posted.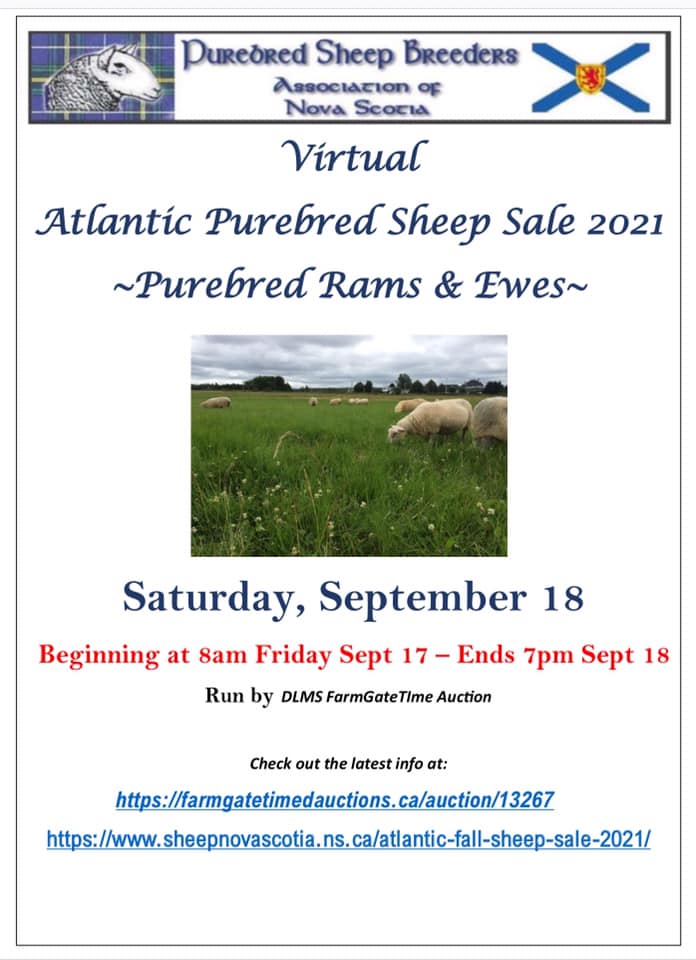 SPANS hosted a Lamb Market Outlook Webinar on August 23rd, 2021, featuring Ab Carroll, Ontario Stockyards Inc., and Scott Dixon, Atlantic Stockyards Ltd., discussing a cost comparison of selling lambs within Eastern Canada.
If you missed this webinar, the recording can be viewed here.
The Canadian Sheep Federation have launched an economic impact study to help demonstrate the true value of the Canadian sheep industry.
Please take a few moments to complete the anonymous Sheep Industry Demographics Survey.
The Purebred Sheep Breeders Association of Nova Scotia is excited to announce they will be holding a virtual Atlantic Purebred Sheep Sale on September 18, 2021.
Stay tuned for more info on the PSBANS website in the coming weeks!
The Campaign for Wool
has published its strategic plan for the revival of the Canadian Wool Industry: The Wool Plan 2021-26.
There will be a Town Hall discussion on June 23 at 1:00 PM to learn more about the plan and engage with the Campaign for Wool team. Please RSVP to
charder@uoguelph.ca
if interested in attending.
The Farm Products Council of Canada (FPCC) is hosting a webinar on May 20 @ 7PM EST: A PRA for Canada's Sheep Industry.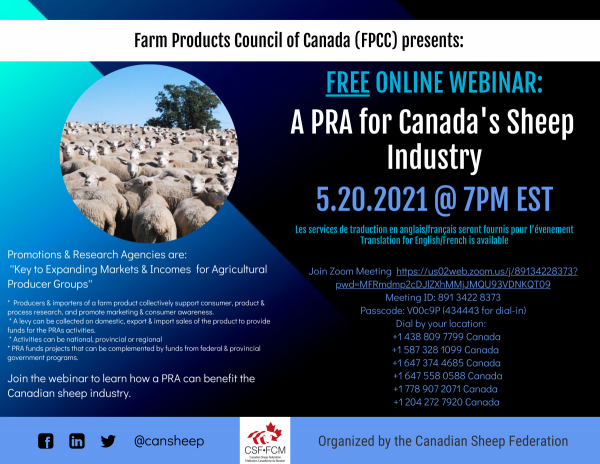 The Agri-Commodity Management Association (ACMA) is a not-for-profit organization which provides efficient and effective administrative and professional support to the agricultural community in Atlantic Canada.  ACMA provides administrative services to nine agricultural commodity organizations as well as administers programs directly to farmers across Atlantic Canada.
At ACMA we work very closely with other industry organizations to provide administrative and advisory services as well as deliver programs directly to farmers across Atlantic Canada.  We are currently seeking a summer student to work with our team to conduct research related to industry demographics and activities related to communications like website and social media updates as well as audio and video recording and editing.  From time to time, other administrative tasks may be required.
This Canada Summer Jobs position will be 28 hours per week for a period of 10 weeks.