The Government of Canada has launched a new online commenting system in CG I that permits stakeholders to comment on proposed regulations online during the consultation period. All stakeholder comments that conform to government guidelines will be posted online after the comment period ends. Making stakeholder's comments on proposed regulations publicly available will increase transparency and accountability, generating a better understanding of the regulatory concerns and challenges of Canadians and stakeholders, and has the potential to facilitate important discussions between regulators and stakeholders.
For more information, including instructions on how to comment, please see the Comment on proposed regulations page on the Canada Gazette website.
The Nova Scotia Department of Agriculture rescheduled their consultation sessions that were cancelled due to Hurricane Fiona. Before they begin developing programs under the Sustainable Canadian Agricultural Partnership agreement, they would like to hear from you. On October 24th, 25th and 27th, the department will discuss federal-provincial program supports for agriculture that will begin in 2023.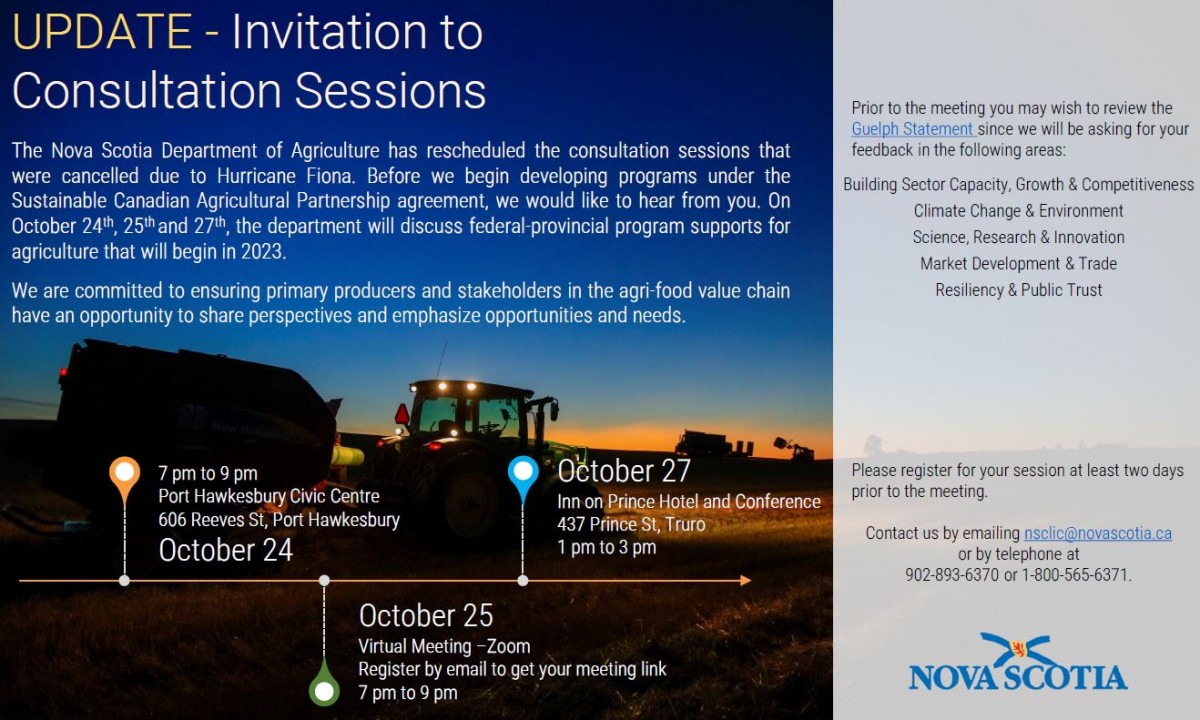 The Purebred Sheep Breeders Association of Nova Scotia (PSBANS) are excited to share the rules and entry forms for the upcoming Atlantic Sheep Sale which will be held in-person again at the Colchester 4-H barn on the NSPE grounds, September 17, 2022. Entry forms are due back to Janessa Henry (PSBANS secretary) by August 4 at janessa.henry@dal.ca.
If you have questions that are not included in the attached rules and entry form, please reach out to Janessa or another one of the directors on the PSBANS Board.
Please view this Avian Influenza Information from the Office of the Chief Veterinary Officer of Nova Scotia. There may be implications for your farming operation if you have poultry present on site.