The Farm Products Council of Canada (FPCC) is hosting a webinar on May 20 @ 7PM EST: A PRA for Canada's Sheep Industry.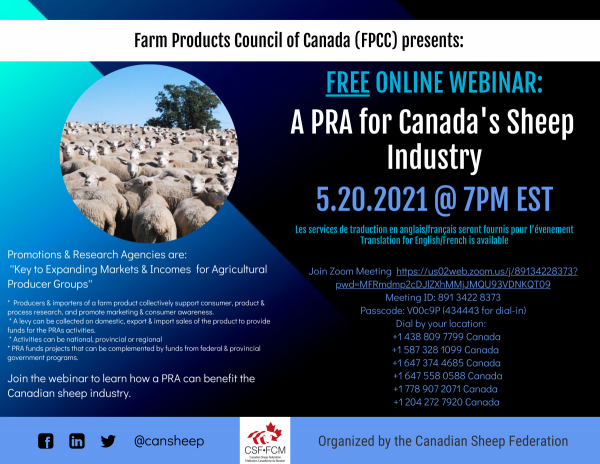 The Agri-Commodity Management Association (ACMA) is a not-for-profit organization which provides efficient and effective administrative and professional support to the agricultural community in Atlantic Canada.  ACMA provides administrative services to nine agricultural commodity organizations as well as administers programs directly to farmers across Atlantic Canada.
At ACMA we work very closely with other industry organizations to provide administrative and advisory services as well as deliver programs directly to farmers across Atlantic Canada.  We are currently seeking a summer student to work with our team to conduct research related to industry demographics and activities related to communications like website and social media updates as well as audio and video recording and editing.  From time to time, other administrative tasks may be required.
This Canada Summer Jobs position will be 28 hours per week for a period of 10 weeks.
The Sheep Producers Association of Nova Scotia promote and assist in the sustainable development of Nova Scotia's sheep industry in the best interest of the members and, ultimately, all Nova Scotians.  In addition to its own initiatives, SPANS works co-operatively with industry stakeholders to advance the sheep and related industries in Nova Scotia.
Established in 1982, the Northumberland Lamb Marketing Co-op Ltd is a producer owned and operated marketing co-operative.  With a focus on quality, Northumberlamb sells some of the most sought-after lamb by some of the best chefs and restaurants throughout Nova Scotia.
As a summer student, you will work jointly with SPANS and Northumberlamb to conduct research related to industry demographics, marketing decision making processes as well as existing and new marketing opportunities.  This position may also include preparation of standardized documents and organizing meetings and events.  From time to time, other administrative tasks may be required.
This Canada Summer Jobs position will be 35 hours per week for a period of 8 weeks.
After registering, you will receive a confirmation email containing information about joining the meeting.
The Canadian Sheep Federation have been working with the government to get access to C. perfringens Type A vaccine and have permission to bring in a batch for emergency access. The manufacturer will need a commitment from producers who need it as to the number of doses required.
The Canadian Sheep Federation are hosting two upcoming GenOvis webinars February 9th and 16th, free for producers and open for everyone to attend.
February 9, 2021 Meeting Information
As mentioned in our last few Monthly Updates, since we are not easily able to host in-person workshops in these COVID-19 times, SPANS are issuing a monthly Virtual Farm Tour.
This will consist of a different sheep operation each time, with a new video being distributed the middle of each month until Spring 2021.
First up: Andrew MacLennan of Kintail Farms, Cape Breton, NS!
Please see the below important updates to the SPANS Annual Meeting, occurring November 21st, 2020:
Registration will now begin at 10:00 AM
The business meeting and workshop will now occur 10:30 AM – 2:30 PM
There is now a virtual option via Zoom for those who are not able to attend in-person.
Please note: there will not be an option to vote or interact with those in attendance via the Zoom option
If you plan to attend virtually, please register here.
A reminder to please bring a mask if you are attending in-person, as masks are required within all public areas of the Debert Hospitality Centre.
Registrations are still due tomorrow, November 6th, 2020.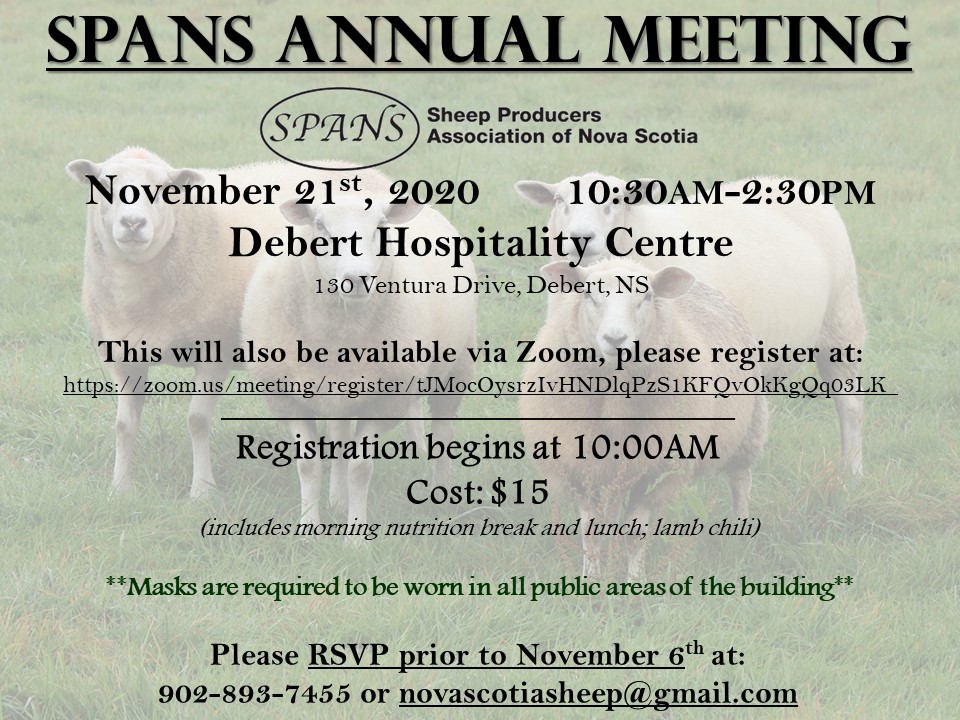 In preparing for the 2nd Annual Global Sheep Conference, the Canadian Sheep Federation (CSF) are working on a Canadian presentation that speaks to what the industry thinks the sector's good new story is.
Their hope is to collate short videos from all walks of the industry and therefore are putting out a call for submissions.  Additional details can be found here.