On-Farm Safety Inspection Workshop – Feb 22
Have you ever wondered how an Occupational Health and Safety (OHS) inspection occurs? What do Inspectors look for on your farm? Is your farm ready for an inspection visit?  Learn about how an OHS inspection works on a farm, what your requirements are and how to create a safe farm workplace.  A "mock" inspection will be conducted by OHS Inspectors and be solely educational.
 Where: Viking Crest Farm Ltd.
4744 Highway 6, Shinimicas
 When: 10am on Friday, February 22
Register by February 20 so we can be sure to have enough coffee to go around! Please respect the farm's biosecurity practices by ensuring you wear clean footwear and clothing. Footbaths will be provided.
Substance Abuse in the Workplace – March 7
Have you ever wondered as an employer how to deal with substances abuse in the workplace (e.g. alcohol, cannabis)? Take the opportunity to learn what you need to know about substance use policy and procedures, identifying and addressing workplace impairment and more.
Where: Berwick Fire Hall
When: 9am – 1pm on March 7th
Member Cost: $75
Register by February 28.
www.farmsafetyns.ca –  info@farmsafetyns.ca – 902.893.2293
Montreal – September 7, 2018. Zoetis Canada announces that Draxxin® (tulathromycin) Injectable
Solution has received approval from Health Canada for the treatment of ovine foot rot associated with
Dichelobacter nodosus when systematic treatment is required due to the presence of active lesions.
Foot rot, which is caused when the bacteria Dichelobacter nodosus infects the horn of the sheep's hoof,1
is highly contagious and has serious implications, such as lameness and reduced production.
Chainsaw Safety Awareness Workshop:
September 13th – Falmouth, NS: 9AM – 4PM (Register with info@farmsafetyns.ca by September 5th)
October 4th – Truro, NS: 9AM – 4PM (Register with info@farmsafetyns.ca by September 27th)
FSNS Member Cost: $75.00.
Youth Calendar Drawing Contest: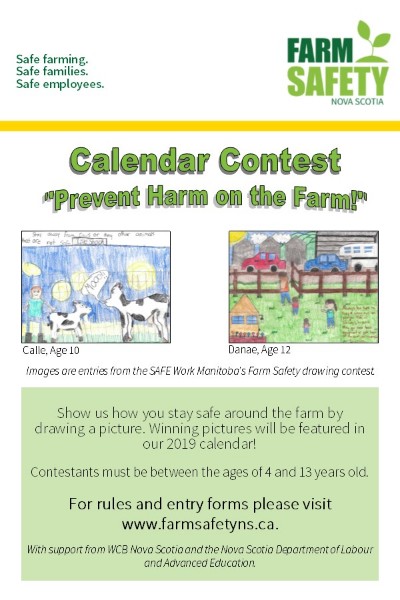 (Register by September 30th at farmsafetyns.ca)
Youth Video Contest: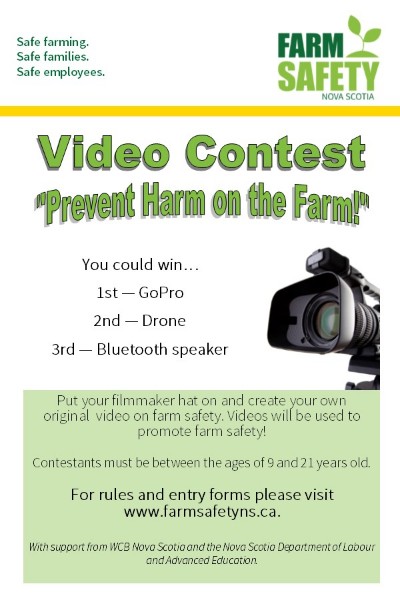 (Register by September 30th at farmsafetyns.ca)
Progressive Ag Safety Day:
October 20th – Yarmouth, NS: 10AM – 2PM (Register by October 15th by submitting an application form here). 
For further information about these workshops and contests, please visit farmsafety.ca, or contact Carolyn Van Den Heuvel at (902)893-2293 or at cvandenheuvel@nsfa-fane.ca
The Canadian Sheep Federation has a new website! Be sure to check out at cansheep.ca
Are you doing all you can to control internal parasites in your sheep?
See the below product information sheet on Startect, a highly effective, short-acting sheep drench and the first new class of drench to be approved in combination. 
It's that time of year again! That's right – The Royal's fleece wool competition prize book is available online.  Now you can find everything you need to know about entering our annual competition.  This year, the wool auction will take place on Sunday, November 11.
Entry deadline for the 2018 fleece wool competition is September 24.
For more information about The Royal, please go to: royalfair.org
Questions about this year's competition? Contact The Royal's Manager, Agriculture and Food Trish Scott: tscott@royalfair.org
To view the prize book, click here.
Do you have experience with lamb marketing? Would you like to help support 4-H youth in learning livestock market skills?
The 4-H NS Market Committee is currently seeking new members!
The committee's goal is to facilitate a successful Market Show and Auction annually at the 4-H NS Provincial Show and to provide support to 4-H members leading up to that event.
Committee members must be willing to complete 4-H volunteer screening (Criminal Record and Child Abuse Registry check, 3 references), attend 2-3 meetings and 4-H NS Provincial Show annually.
This year's 4-H NS Market events will be held Sept 28 & Sept 29 at the South Shore Exhibition Grounds in Bridgewater, NS.
To volunteer, or for more information, please contact Carolyn Gibson at carolyn.gibson@4hnovascotia.ca or 902-843-3980.
Part II Faecal Egg Count Workshops are upcoming; one August 2nd at 6:00PM in Bible Hill, and the other August 7th at 6:00PM in Aylesford.
With the hot weather we have been experiencing lately, we would expect for egg counts to be on the rise, so doing a second faecal sample now would be very useful.
For this Part II, Dr. Gwyneth Jones will be delivering presentations discussing wormers, selecting for improved resistance, correlating worm burdens with the weather and a reminder of the technique.
If you are interested in attending Part II but were not able to attend Part I, please contact Ashley at 902-895-0581 or email novascotiasheep@gmail.com to be added to the registration list!