The Programs and Business Risk Management (PBRM) division of the Department of Agriculture announced yesterday that CAP will be reopening for applications July 3, 2018.
For additional information, please visit: https://novascotia.ca/programs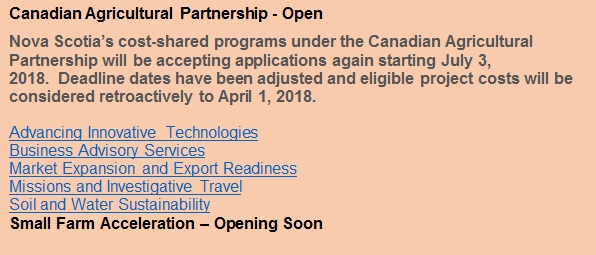 The Canadian Food Inspection Agency (CFIA) is currently in the process of changing animal movement regulations, therefore a Premise Identification (PID) will be required in the future.
For more information, or to complete an online application, please visit: https://www.novascotia.ca/agri/pid
If you have questions, please contact: 
Daniel Muir, Traceability Coordinator
Nova Scotia Department of Agriculture
902-890-9840 or Daniel.Muir@novascotia.ca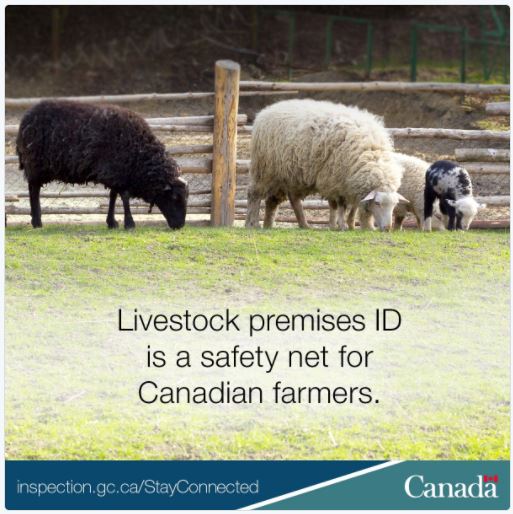 Some of the events at the 2018 All Canada Sheep Classic, July 5-7, at the NSPE Grounds include:
Wool Handling & Evaluation Course
Sheep Show
Banquet
Sheep Sale
Fleece competition and sale
Trade show
Fibre Frolic
More information on the All Canada Sheep Classic can be found here.
From the Nova Scotia Federation of Agriculture:
CFIA released the regulations for the Safe Food for Canadians Act Wednesday, June 13, 2018. This has been an important advocacy piece for the Federation since the Act received Royal Assent in 2012.
Upon early review of the regulations, NSFA is pleased to read that many farms with a gross farm income under $100,000 will not be required to have a written preventive control plan (PCP). While the Federation does not dispute the need for tractability and assurance of safe food, the cost prohibitive written PCP would have potentially put farms, particularly those that sell direct to market across provincial boarders, out of business if required to comply. During the consultative process, NSFA lobbied Health Canada, CFIA and AAFC to raise the proposed $30,000 threshold or create an exception for farms selling direct to market.
Farms not exempt from this exception include meat destined for export or interprovincial trade, prepared meat products, dairy products, fish, eggs, processed egg products, or processed fruits and vegetables, or if an export certificate is requested.
The regulations will be phased in and will come into effect on January 15, 2019. Further review of the regulations is underway and highlights will be communicated in the future.
Safe Food for Canadians – Regulations
Second Harvest & Value Chain Management International (VCMI) are researching food loss & waste (FLW) in Canada's farming, food & beverage industries.
The purpose of their study is to establish a framework and metrics that businesses operating in the farming, processing, retail and foodservice sectors can use to understand:
1) where losses are likely to occur, and
2) identify ways to improve their performance and profitability by reducing losses and waste.
Please take 10 minutes to complete the survey prior to June 15th.