Do you have experience with lamb marketing? Would you like to help support 4-H youth in learning livestock market skills?
The 4-H NS Market Committee is currently seeking new members!
The committee's goal is to facilitate a successful Market Show and Auction annually at the 4-H NS Provincial Show and to provide support to 4-H members leading up to that event.
Committee members must be willing to complete 4-H volunteer screening (Criminal Record and Child Abuse Registry check, 3 references), attend 2-3 meetings and 4-H NS Provincial Show annually.
This year's 4-H NS Market events will be held Sept 28 & Sept 29 at the South Shore Exhibition Grounds in Bridgewater, NS.
To volunteer, or for more information, please contact Carolyn Gibson at carolyn.gibson@4hnovascotia.ca or 902-843-3980.
Part II Faecal Egg Count Workshops are upcoming; one August 2nd at 6:00PM in Bible Hill, and the other August 7th at 6:00PM in Aylesford.
With the hot weather we have been experiencing lately, we would expect for egg counts to be on the rise, so doing a second faecal sample now would be very useful.
For this Part II, Dr. Gwyneth Jones will be delivering presentations discussing wormers, selecting for improved resistance, correlating worm burdens with the weather and a reminder of the technique.
If you are interested in attending Part II but were not able to attend Part I, please contact Ashley at 902-895-0581 or email novascotiasheep@gmail.com to be added to the registration list!
Cleanfarms will be in Nova Scotia for an Obsolete Collection Campaign, collecting unwanted pesticides and livestock medications, from November 5-16, 2018 in various locations.
Please note, this collection will not be commencing again until 2021.
The 2018 Sheep Show will occur August 26 at the NSPE Grounds in Bible Hill, NS. Please see below for the Entry Form, as well as the Rules and Regulations.
Entry forms are due by August 15, 2018 to the SPANS Office.
2018 Entry Form Sheep Show [PDF]
2018 Sheep Class Rules [PDF]
The Programs and Business Risk Management (PBRM) division of the Department of Agriculture announced today the new "Small Farm Acceleration Program" has opened for application intake.
This program allows small farms to make significant strides in reaching or working towards commercial viability. This is open to new farmers, as well as existing farms with up to $60,000 gross commodity sales.
Additional information can be found here.
Want to win an all-expense paid trip to the 2018 Agricultural Excellence Conference in Winnipeg, November 26-28?
In a 1-minute video, Farm Management Canada is asking Canadian young farmers to answer the question: If you could tell a consumer one thing, what would it be?
Winners will be selected based on the following criteria:
– Quality and creativity of the video submitted
– Logic and coherent flow of ideas
– Relevance to the questions posed
– Delivery of presentation
– Compliance with eligibility criteria
Eligibility criteria:
– Contestant must be at least 20 and under 40 years of age as of January 1, 2018;
– Contestant must complete the video application form;
– Contestant must be involved in the Canadian agricultural industry;
– Contestant must reside in Canada and be a Canadian citizen;
– Contestant must submit a video, 1 minute in length, responding to the contest question;
– Contestant must make an appearance in their video submission;
– Video must include "Y WE FARM" in the title;
– FMC and FCC logos must appear at the end of the video
Completed application forms and video submissions must be received no later than October 19, 2018.
Please click here for more information.
A reminder to all registered for the Part I Faecal Egg Count Workshop, occurring tomorrow evening (6-8:30PM), taught by Dr. Gwyneth Jones in Perennia Park, Bible Hill, to please bring a sheep faecal sample with you.
The 2018 Forage Field Day Agenda is now available! This event will be held August 8th at the AAFC Nappan Research Station.
Producers from all livestock sectors are invited to attend the field day. This year will feature a number of speakers and demonstrations related to forage production in dairy, sheep and beef sectors.
To RSVP for lunch, please contact Ellen Crane with the Maritime Beef Council at 902-969-1632 or maritimebeefcouncil@gmail.com.
2018 Forage Field Day Agenda (PDF)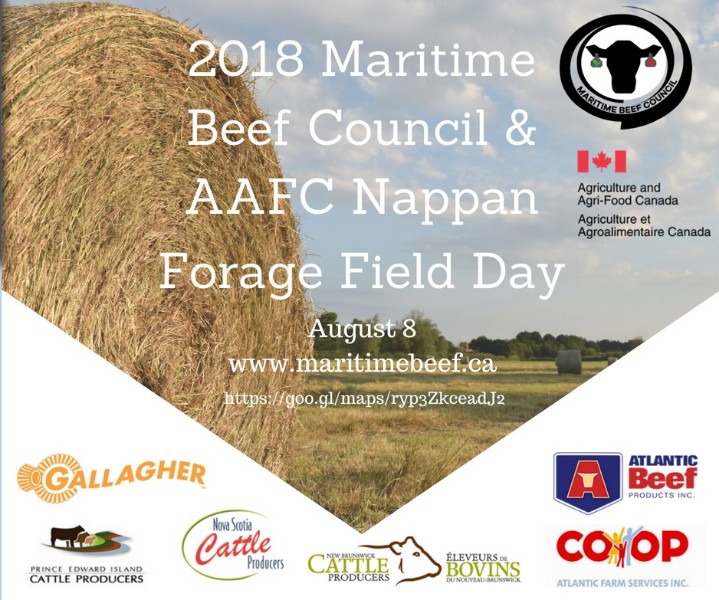 Reminder: CFIA is soon changing animal movement regulations, with a Premise Identification (PID) soon being required.
For questions, please contact:
Daniel Muir, Traceability Coordinator
Nova Scotia Department of Agriculture
902-890-9840 or Daniel.Muir@novascotia.ca