After registering, you will receive a confirmation email containing information about joining the meeting.
The Canadian Sheep Federation have been working with the government to get access to C. perfringens Type A vaccine and have permission to bring in a batch for emergency access. The manufacturer will need a commitment from producers who need it as to the number of doses required.
The Canadian Sheep Federation are hosting two upcoming GenOvis webinars February 9th and 16th, free for producers and open for everyone to attend.
February 9, 2021 Meeting Information
As mentioned in our last few Monthly Updates, since we are not easily able to host in-person workshops in these COVID-19 times, SPANS are issuing a monthly Virtual Farm Tour.
This will consist of a different sheep operation each time, with a new video being distributed the middle of each month until Spring 2021.
First up: Andrew MacLennan of Kintail Farms, Cape Breton, NS!
Please see the below important updates to the SPANS Annual Meeting, occurring November 21st, 2020:
Registration will now begin at 10:00 AM
The business meeting and workshop will now occur 10:30 AM – 2:30 PM
There is now a virtual option via Zoom for those who are not able to attend in-person.
Please note: there will not be an option to vote or interact with those in attendance via the Zoom option
If you plan to attend virtually, please register here.
A reminder to please bring a mask if you are attending in-person, as masks are required within all public areas of the Debert Hospitality Centre.
Registrations are still due tomorrow, November 6th, 2020.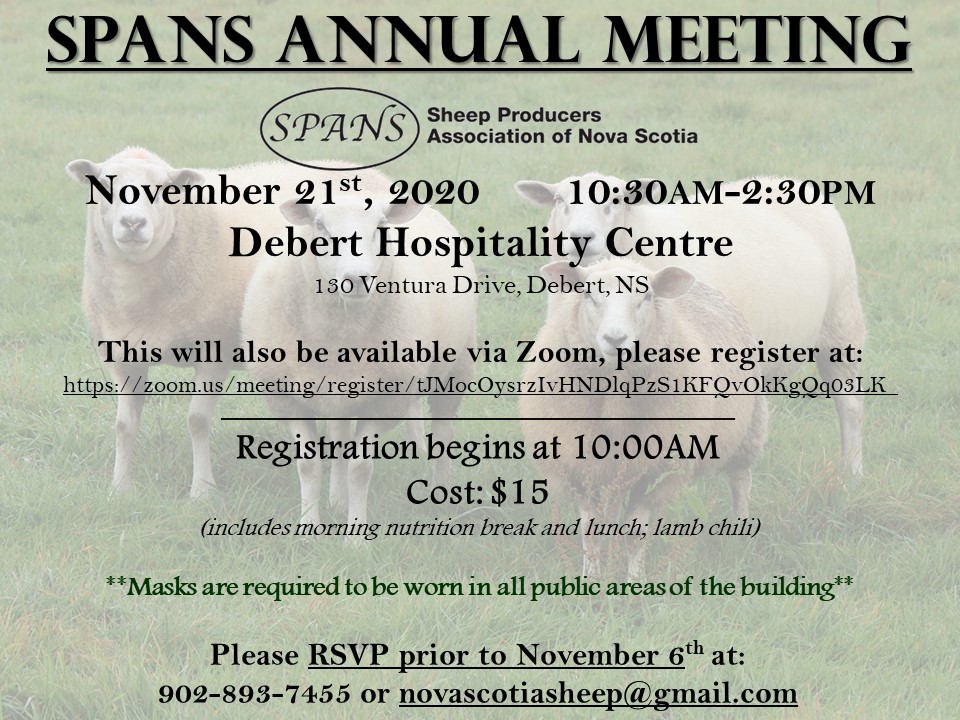 In preparing for the 2nd Annual Global Sheep Conference, the Canadian Sheep Federation (CSF) are working on a Canadian presentation that speaks to what the industry thinks the sector's good new story is.
Their hope is to collate short videos from all walks of the industry and therefore are putting out a call for submissions.  Additional details can be found here.
The Sheep Producers Association of Nova Scotia (SPANS) is currently drafting an industry development strategy to increase lamb marketing, enhance production efficiency and improve farm management. SPANS has been working with the business development branch of the Nova Scotia Department of Agriculture to develop strategic priorities and an implementation plan. To help get a better understanding of industry demographics and outlook, we ask that you help us by responding to this survey. This SPANS administered survey will take about 20 minutes to complete and all responses will be kept anonymous by aggregating responses. The survey will primarily be administered using Google Docs, however, if you would like to complete the survey via phone, please call Ashley at 902-893-7455. Please have the primary decision maker for the farm complete this survey.
To encourage participation, SPANS is offering a chance to win one of four $25 gas cards, if you provide your name when completing the survey.
The 2020 Nova Scotia Sheep Producer Survey will close December 4, 2020.
The Purebred Sheep Breeders Association of Nova Scotia is holding its AGM by Zoom at 10:00 a.m. on Nov. 7th, 2020 due to Covid-19.  This is a members only meeting and is by e-mail invitation to current members of the association.
Please contact Cathy Vallis at c.vallis1981@icloud.com or (902) 895-4039.
Election of the CSBA director takes place during this meeting.
The Canadian Food Inspection Agency (CFIA) is launching a 45-day consultation period from September 30, 2020, to November 15, 2020, to seek feedback and to inform upcoming changes to the Feeds Regulations.
If you wish to participate in this consultation, please send your feedback by November 15, 2020.