The Annual General Meeting of the Sheep Producers' Association of Nova Scotia will be on Saturday November 18, 2017 at the Best Western Glengarry in Truro. Registration will start at 9:30am and is $15 which includes morning refreshments and lunch (lamb chili or chicken soup). To register in advance, please contact Shelly at 902-893-7455.
This year's annual meeting will feature presentations and a question and answer period with the Canadian Sheep Federation as well as the National Sheep Network.
Canadian Cooperative Wool Growers Ltd, Atlantic Wool Depot Collection will be accepting wool for shipment in October.  There will be a tractor trailer on site so please bring large bags or quantities of wool on that day. 
| | |
| --- | --- |
| Date | Saturday October 28, 2017 |
| Time | 10:00am to 3:00pm |
| Where | 1700 Highway 311, North River |
| Contact- Ruth Mathewson | Call or text 902-897-7708 to make other drop-off arrangements before the shipment date |
Ottawa, ON (September 15, 2017) – Canadian sheep farmers and ranchers should expect the pink metal Ketchum Kurl-Lock #3 tag to be revoked from the Canadian Sheep Identification Program (CSIP) at the end of October 2017. In an upcoming meeting of national ID program administrators, stakeholders and government representatives scheduled for early October, the Canadian Food Inspection Agency (CFIA) will recommend revoking the pink metal Ketchum Kurl-Lock tag. In a meeting earlier this week, the Canadian Sheep Federation Board of Directors elected to support the tag's revocation, as they considered a recommendation from the CSIP Working Group to do so.
WORM ALERT
Weather conditions have been favourable for barber pole worm this month, and we are seeing egg counts rising in fecal samples.  Warm temperatures let the larvae develop faster in fecal pellets, and rain showers moisten the pellets so that the infective larvae leave the pellets and move onto the plants.  Once the larvae have come out from the feces, they can move from the soil to plant stems whenever conditions are wet, damp, or even just humid – as we've been seeing lately.
Now is the time to keep monitoring animals, especially lambs or yearlings on pasture for the first time, and to look for pale eyelids and even (at worst) bottle jaw. Some producers are already reporting serious worm problems.
When worming, it is important to know how effective your wormer is.  We are again offering free fecal egg counts, especially if you want to test the efficacy of wormers, this summer until the end of August.  If you  are interested and can arrange for samples to be sent to Halifax or Truro, you can contact me at gjones@smu.ca, or through the SPANS office, and we will do our best to help you.
Gwyneth Jones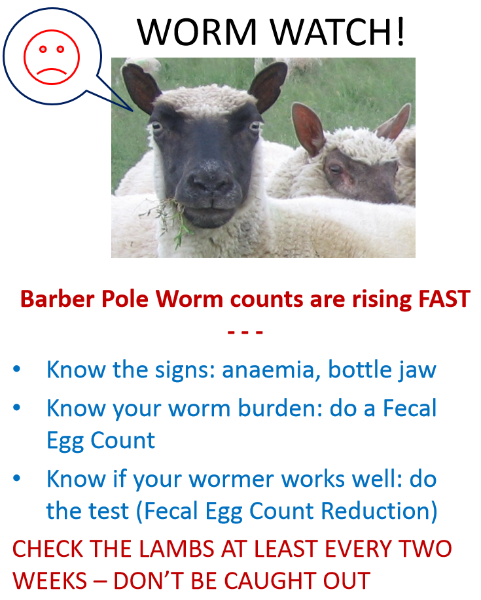 What is maedi visna?
How can I tell if my flock has the virus?
How can I take part in the survey?
What are the options for a virus free flock?
Maedi visna virus (MVV)
Causes a slow wasting disease that is eventually fatal. There is no cure or vaccine.
Major signs of disease are seen in the lungs (ovine progressive pneumonia) and in the udder, as a chronic mastitis reducing milk production (hard bag)
The virus spreads through colostrum, and especially through prolonged contact (respiratory secretions), so it spreads easily in winter when sheep are in the barn
Effects in the flock include early culling of less productive ewes, lower lamb weights and lower lamb survival
Effects are usually seen in older animals (over about 4 years), but the virus can be transmitted to lambs or young ewes and rams and the disease is slowly progressive
Detection
Blood samples taken by a veterinarian are sent for analysis to a veterinary laboratory in Ontario
The test has high sensitivity and specificity (few false positive or false negative results) and can detect the virus in animals over 6 months of age
This survey
Will cover much of the cost of sample analysis
Up to 50 animals per flock can be tested for a sample analysis cost of $2/sample. Regular cost through the Pathology Laboratory at present is $15/sample plus handling and shipping
The cost of the veterinarian's visit to take the samples cannot be included
More than 50 animals could also be included, but the cost per sample for additional animals would be at the full price
Will show what percentage of the sampled farms are MVV positive, and help individual producers come up with a strategy to combat the virus if it is present in their flocks
Can MVV be controlled?
Yes, there are options:
All MVV positive animals can be culled and the flock tested again every 4-8 months
MVV positive animals can be kept apart from the rest of the flock (separate barn, or subdivided barn space)
Lambs from valuable animals can be snatched at birth and raised on artificial colostrum and milk replacer
Lambs can be raised normally by infected ewes, separated after weaning, and tested at 6 months
Ontario and Quebec both have MVV monitoring programs. The Ontario Maedi Visna Flock Status Program is available at www.ontariosheep.org, and has a lot of useful information
We are looking for 25 producers to participate
For small flocks (less than 50) we can sample all animals over 6 months.
For larger flocks you can select older animals (more likely to be infected) and any in poor condition, or select a random sample of animals of any age over 6 months
If you are interested
Contact Cathy Vallis at c.vallis@ns.sympatico.ca for more details and to register.
All data will be kept confidential, and only released in summary form: percentage of flocks infected, sheep infected per flock, and age breakdown if available.
As the winter comes to an end, farmers have been able to better assess the implications that last year's drought had on their farm.  A few reports have come forward regarding hay shortages.  Nova Scotia Cattle Producers and Nova Scotia Federation of Agriculture will be co-leading two sessions for farmers of any commodity to attend so we have a better idea of the scope of the issue.
To ensure that the file can be moved on as quickly as possible if necessary, two sessions will take place starting at 7p.m.:
Tuesday May 16 – Paddy's Pub, Kenville
Wednesday May 17 – NSFA Boardroom, Bible Hill
If you are unable to attend either of these sessions but would like to provide input, please fill out the form linked here.
In preparation for negotiations with the federal government concerning the Next Agricultural Policy Framework the Nova Scotia Department of Agriculture is extending an invitation to members of the agriculture and agri – food industries to provide feedback and input on 'Next Agricultural Policy Framework'. We are committed to ensuring that stakeholders from all parts of the agriculture and agri-food value chain are provided an opportunity to share their perspectives on the policies and programming that enable our sector's success, as well as the emerging challenges that the sector may face.
There are two opportunities to provide input and feedback:
• Complete the NSDA Online Survey
• Register for one of the Engagement Sessions
The sessions will take place at the following locations on the following dates:
• Cape Breton Region: Tuesday April 4th, 2017, Inverary Inn, Baddeck
• Valley Region: Tuesday April 11th, 2017, Old Orchard Inn, Wolfville
• Western Region: Wednesday April 12th, 2017, Annapolis Conference Centre, Cornwallis
• Central Region: Wednesday April 19th, 2017, Best Western Glengarry, Truro
If you are interested in attending one of the sessions, please reserve your spot as soon as possible as space is limited and they are on a first come, first served basis. Please RSVP via email: prm@novascotia.ca or telephone at 1-866-844-4276.
The Nova Scotia Department of Agriculture is pleased to notify you that the Nova Scotia Premises ID Program has launched an online system that can be used by producers and others responsible for livestock premises to apply for premises identification (PID) numbers and to manage the information related to a premises on an on-going basis.
Premises identification is a way of linking livestock and poultry to a geographic location for the purposes of responding to emergencies that threaten animal or public health. It is a key component of the national livestock traceability initiative.
A premises is considered to be identified when the following information is complete, accurate and current:
Legal land description (property identification number)
Geo-coordinates
Land owner/Emergency contact information
Premises type (e.g. farm, community pasture, abattoir, etc.)
Animal type (all animals on the premises)
Maximum animal capacity for each farmed animal type (not an inventory but an estimate of the number of head of a given species that could be housed at the site)
Individuals responsible for a livestock premises can now go to http://novascotia.ca/agri/premisesid for more information and to follow the link to create an account and apply for a PID.
E-mails can also be sent to NSPID@novascotia.ca or you can call 902-890-9840.